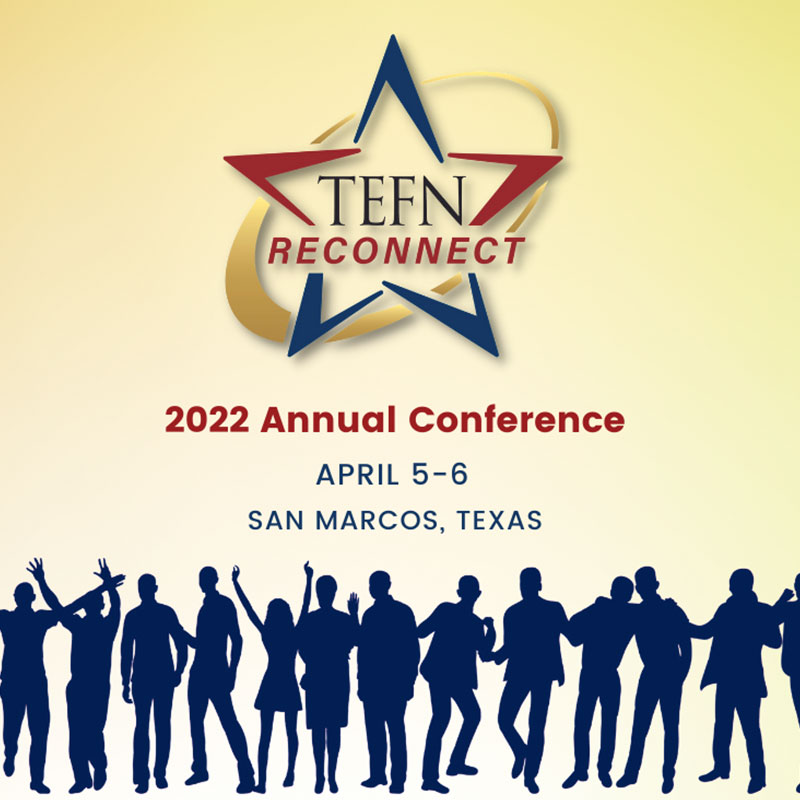 2022 TEFN Annual Conference
The Annual Conference is FREE to TEFN members and is sponsored by Texas Pioneer Foundation. The conference provides Texas school foundations with an opportunity to network and share best practices by attending sessions such as fundraising, board development, donor management, legal & governance and marketing & public relations.
We are excited to have many talented speakers this year who will share their knowledge and experience in donor management, fundraising, board development, nonprofit management and professional development.
Registration is now closed for the 2022 TEFN Conference scheduled for April 5-6, 2022 at the Embassy Suites Hotel & Conference Center in San Marcos! Click on the links below to register for the conference and make hotel reservations.
All Conference Speakers
Opens in a New Window
Conference Session Presentations
Opens in a New Window
2022 CFRE Tracker Sheet (DOCX)
Conference Photos
Opens in a New Window
The Annual Conference Registration ticket sales has ended!
Speaker
Clint Pulver

Clint Pulver

Clint Pulver is a professional keynote speaker, author, musician, pilot, and workforce expert. Known as the leading authority on employee retention, Clint has transformed how corporations like Keller Williams, AT&T, and HewleC Packard create lasting loyalty through his work and research as the Undercover Millennial. He has been featured by Business Q Magazine as a "Top 40 Under 40," and, as a professional drummer, he has appeared in feature films and on America's Got Talent. In 2020, Clint won an Emmy Award for his short film Be a Mr. Jensen, which tells the story of how a single moment in time—and one particular mentor— can change the course of a life.